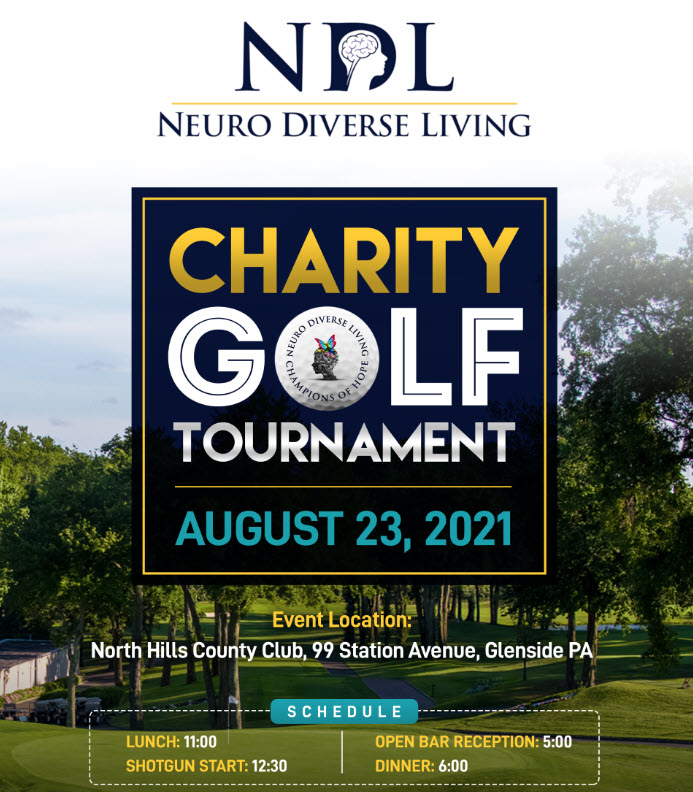 Summer is almost here! In fact, it's right around the corner.

People long to get outside after a long pandemic. Just think about a day in the sun chatting with friends and doing something good for the soul. We have just the thing. Neuro Diverse Living will hold its first annual golf tournament on August 23rd at the North Hills Country Club in Glenside, PA. What better way to get outside, get some exercise, and socially distance with friends while helping adults with Autism or other intellectual disabilities obtain safe and secure housing. The NDL Champions of Hope Tournament Committee invites you to be part of something special!

When you participate as an individual golfer or sponsor, you can help make a big difference in the future of people living with Autism. When you select one of the sponsorship opportunities below, your company logo will be displayed on our tournament website from May 1 through August 31, as well as on the player's mobile scoring app throughout the tournament itself. Just think of the positive exposure you will get.

NDL's mission is to offer adults with autism or other intellectual developmental disabilities the opportunity to live as independently as possible. We provide safe and secure neuroinclusive cohousing communities with built-in amenities and natural support systems that give parents and aging caregivers peace of mind that they will never have to worry about their children being alone or isolated.

With your participation, you can help us do that.

Please join Neuro Diverse Living in participating in the 2021 Champions of Hope Charity Golf Tournament. We have many different opportunities to participate, so click the button below to learn how you can make a difference. Help us provide safe & sustainable neuro-inclusive co-housing communities for adults with autism or other intellectual disabilities by completing the attached Registration & Sponsorship form.
Thank you for your consideration!